Conference Reports
Intellectual Background
For decades before the Thirty Years War, Protestant communities in Poland-Lithuania, the Czech lands, and Hungary-Transylvania, lacking fully functional local universities responsive to their needs, sent their sons westward to study in Germany's numerous universities and academies. The resulting contact and reciprocal influence knit the intellectual histories of these regions together in inextricable ways. The three decades of war which followed disrupted many of these institutions and replaced these patterns of academic travel with fresh waves of intellectual refugees fleeing in all directions: not only to Transylvania, western Poland, and Polish Prussia, but also to Scandinavia, the Netherlands, and the British Isles. At the same time, the trauma of displacement transformed long-nurtured aspirations toward ecclesiastical reunification, political pacification, pedagogical improvement, and philosophical reform into an all-embracing programme of Universal Reformation.
Conference Contribution
This international conference will enable emerging and established scholars to contribute their perspectives on this huge system and the unfamiliar intellectual traditions exchanged within it. Discussions will range outward chronologically from the wartime period to earlier and immediately following developments connected with it, and geographically from central Europe in all directions. Intellectual traditions to be explored include the following:
Universal education: institutional networks and intellectual exchange
Universal wisdom: encyclopaedia and pansophia
Universal communication: the early modern European media revolution
Universal communion: ecclesiastical reconciliation in central Europe
Universal history: millenarianism, prophecy, and propaganda
Conference Context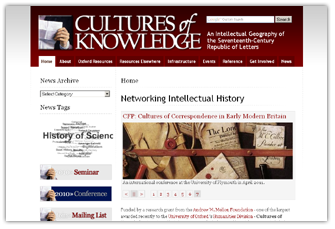 The event is the first international conference of Cultures of Knowledge: An Intellectual Geography of the Seventeenth-Century Republic of Letters, a collaboration between the Humanities Division and the Bodleian Library of the University of Oxford with generous funding from the Andrew W. Mellon Foundation. It builds on insights developed at three preparatory European workshops (held in Prague, Cracow, and Budapest), while further international conferences organised by the Project will take place in 2011 and 2012. For full details of our activities, please see www.culturesofknowledge.org.